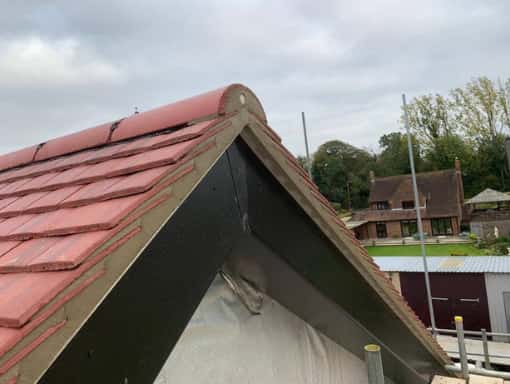 Introduction: When replacing your roof, choosing a suitable roofing material is essential to ensure longevity, energy efficiency, and curb appeal for your home. With many options available, each roofing material comes with its own advantages and drawbacks. In this blog post, Sevenoaks Roofers will explore the pros and cons of various roofing materials to help you decide on your roof replacement project.
Asphalt Shingles
Pros:
Widely available and cost-effective.

Easy to install and repair.

Various colours and styles to suit your home's design.

Suitable for most climates and weather conditions.

Provides good fire resistance.
Cons:
Lifespan is typically shorter than other roofing materials (15-30 years).

Prone to moss and algae growth in humid climates.
Metal Roofing
Pros:
Extremely durable and can last 40-70 years or more.

Resistant to fire, rot, and insects.

Energy-efficient, reflecting sunlight and reducing cooling costs.

Available in various styles, including standing seam, metal tiles, and metal shingles.

Lightweight and can be installed over existing roofs.
Cons:
Higher upfront cost compared to some other materials.

Requires professional installation for best results.

Possible expansion and contraction noise during temperature changes.
Clay or Concrete Tiles
Pros:
Elegant and visually appealing, adding a touch of sophistication to your home.

Long-lasting and can endure 50-100 years.

Excellent fire resistance and can withstand extreme weather conditions.

Low maintenance and resistance to rot and insects.

Energy-efficient, providing natural insulation.
Cons:
Heavy, requiring a sturdy roof structure for support.

More expensive than asphalt shingles or metal roofing.

Installation and repairs may require specialised expertise.
Wood Shingles or Shakes
Pros:
Natural and charming appearance, enhancing the aesthetics of your home.

Provides good insulation and breathability.

Environmentally friendly when sourced sustainably.

Easier to repair and replace individual shingles.
Cons:
Less fire-resistant than other materials, although fire-treated options are available.

Requires regular maintenance to prevent rot, moss, and insect infestations.

Lifespan can vary significantly based on climate and maintenance (20-40 years).
Conclusion: Selecting the right roofing material for your roof replacement is a crucial decision that impacts your home's longevity, appearance, and overall value. Each roofing material comes with its own set of advantages and disadvantages. Consider your budget, climate, architectural style, and desired aesthetics when making your choice. If you need further guidance or assistance, consult a reputable roofing contractor like Sevenoaks Roofers, who can help you make an informed decision and ensure a successful roof replacement that will protect your home for years to come.